Tag Archives:
sight
The Magyar Agár (Hungarian Sighthound or Greyhound) is an indigenous national dog breed that developed in Hungary. It was an essential tool before people applied firearms in hunting. They used it for killing the popping-up and running wild. His high initial speed and sustained gallop made him capable of doing that successfully. Let's look at this dog breed a bit closely.
About Origin of Magyar Agár
Not just any story follows here, my dear reader. The origin of the Hungarian Sighthound – like the Transylvanian Scenthound – is going back to the distant past. When you take a look into the well of history, you need to see a few thousand years.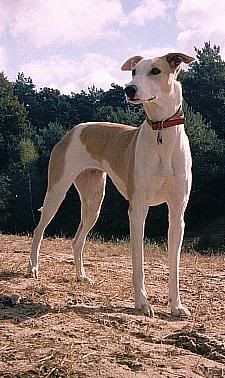 Considering the nomads or settled nations, both groups used greyhound-type dogs for hunting in ancient times. The ancestors of today's Hungarians performed the hunting on horseback. During their migration from Middle-Asia to Europe, a variety of oriental greyhounds or greyhound-type dogs were their helpmate in hunting.
It is believed, the living similar type dog breeds such as the Afghan, Arabic, English, Hungarian, Persian and Russian comes from a common ancestor, the Egyptian Agár. The walls of Egyptian tombs are often decorated with depictions of that type of dog. Moreover, the Egyptians portrayed their god Anubis as a Greyhound-like dog.
Of course, others are on different opinion related the origin. As traditions say, the ancient version of the Magyar Agár was wandering together with Hungarian ancestors into the Carpathian Basin more than 1100 years ago. Then this dog version – in all probabilities – could develop further by crossing with part of the dogs of inhabitants.
The next wave of development was the crossing with similar greyhound-type dogs of Turks after 1526. Archeologists found bones of greyhound-type artefacts in tombs excavated from the Árpád-era or the time of conquest. There were similar dog bones also among the Roman and Sarmatian and later archeological finds in Hungary.
For example, they found a skull in Zalavár, as well as an Agár artefact in Felgyő. The word Agár is involved in the diplomas of the Árpád dynasty too. And even the settlement Agárd founded around that time preserved the name in a diminutive form ("greyhound-kid").
Anyway, the story goes that in the 19th century, they crossed this breed with other greyhound breeds to increase the dog's speed. What was the result? Let's see together.
How the Magyar Agár Looks Like?
Have you ever seen to run the Magyar Agár? It's a fantastic sight as the tremendous energy indwelling him resurfaces. Casual, yet plastic muscles embossed his tight body make him able to move its lean physique with fast direction changes and explosive dynamism.
The Magyar Agár has a muscular, powerful physique, typical galloping structure. His front, proportions and angulation predestine him for both speed and endurance. Consequently, the overall proportionality of the Hungarian Sighthound is far more important than its size.
He has stronger bones and slightly wider head than the English Greyhound. And his greater and slightly thicker ears are also a distinctive feature. Its skull is strong and broad; the muzzle is also robust but not coarse and not pointed.
The teeth of this animal are strong and lined regularly in large, muscular jaws. He has complete scissor bite appropriate to the dental formula.  His nose is relative big and black pigmented, and the nostrils are broad. His eyes are medium-sized and dark colored.
The eyes aren't protruding nor deep set, and their expression is keen and intelligent. This dog has set on at a medium height, well carried rose ears, clinging to the neck at rest. When the Magyar Agár is alert, his ears are erected up.
His big lungs and heart take their places in a distinctive rounded and brisket deep chest. You can see its well arched ridges that sloping far back. The staff of this dog is flat and deep; the belly is tucked up moderately. This animal has a long tail, ending at his hock.
The skin is relatively thick, fitting well all over, without folds or dewlap. His coat is short and close fitting. In winter, he develops undercoat too. His onetime typical color was yellow color of the pea with tabby version. As the times changed, they accepted nearly all dog colors.
Nevertheless, exceptions are here, like the blue and the orda, brown and black and tan. For your information, the orda is a cheese made from whey with a secondary procedure. That's excellent to eating it freshly, at least for me.
The Size of the Magyar Agár
His size at the withers is varied between 61 – 70 centimeters (24.5 – 27.5 inches).
The weigh is from 22 to 31 kilogram (48 – 69 lb).
Side note: the body of this rare dog breed is longer than its withers height.
To be continued here.