Tag Archives:
skin
The Magyar Agár (Hungarian Sighthound or Greyhound) is an indigenous national dog breed that developed in Hungary. It was an essential tool before people applied firearms in hunting. They used it for killing the popping-up and running wild. His high initial speed and sustained gallop made him capable of doing that successfully. Let's look at this dog breed a bit closely.
About Origin of Magyar Agár
Not just any story follows here, my dear reader. The origin of the Hungarian Sighthound – like the Transylvanian Scenthound – is going back to the distant past. When you take a look into the well of history, you need to see a few thousand years.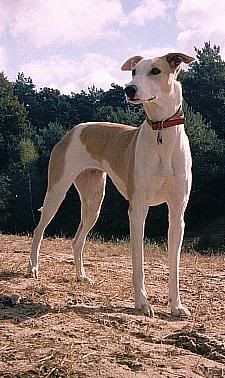 Considering the nomads or settled nations, both groups used greyhound-type dogs for hunting in ancient times. The ancestors of today's Hungarians performed the hunting on horseback. During their migration from Middle-Asia to Europe, a variety of oriental greyhounds or greyhound-type dogs were their helpmate in hunting.
It is believed, the living similar type dog breeds such as the Afghan, Arabic, English, Hungarian, Persian and Russian comes from a common ancestor, the Egyptian Agár. The walls of Egyptian tombs are often decorated with depictions of that type of dog. Moreover, the Egyptians portrayed their god Anubis as a Greyhound-like dog.
Of course, others are on different opinion related the origin. As traditions say, the ancient version of the Magyar Agár was wandering together with Hungarian ancestors into the Carpathian Basin more than 1100 years ago. Then this dog version – in all probabilities – could develop further by crossing with part of the dogs of inhabitants.
The next wave of development was the crossing with similar greyhound-type dogs of Turks after 1526. Archeologists found bones of greyhound-type artefacts in tombs excavated from the Árpád-era or the time of conquest. There were similar dog bones also among the Roman and Sarmatian and later archeological finds in Hungary.
For example, they found a skull in Zalavár, as well as an Agár artefact in Felgyő. The word Agár is involved in the diplomas of the Árpád dynasty too. And even the settlement Agárd founded around that time preserved the name in a diminutive form ("greyhound-kid").
Anyway, the story goes that in the 19th century, they crossed this breed with other greyhound breeds to increase the dog's speed. What was the result? Let's see together.
How the Magyar Agár Looks Like?
Have you ever seen to run the Magyar Agár? It's a fantastic sight as the tremendous energy indwelling him resurfaces. Casual, yet plastic muscles embossed his tight body make him able to move its lean physique with fast direction changes and explosive dynamism.
The Magyar Agár has a muscular, powerful physique, typical galloping structure. His front, proportions and angulation predestine him for both speed and endurance. Consequently, the overall proportionality of the Hungarian Sighthound is far more important than its size.
He has stronger bones and slightly wider head than the English Greyhound. And his greater and slightly thicker ears are also a distinctive feature. Its skull is strong and broad; the muzzle is also robust but not coarse and not pointed.
The teeth of this animal are strong and lined regularly in large, muscular jaws. He has complete scissor bite appropriate to the dental formula.  His nose is relative big and black pigmented, and the nostrils are broad. His eyes are medium-sized and dark colored.
The eyes aren't protruding nor deep set, and their expression is keen and intelligent. This dog has set on at a medium height, well carried rose ears, clinging to the neck at rest. When the Magyar Agár is alert, his ears are erected up.
His big lungs and heart take their places in a distinctive rounded and brisket deep chest. You can see its well arched ridges that sloping far back. The staff of this dog is flat and deep; the belly is tucked up moderately. This animal has a long tail, ending at his hock.
The skin is relatively thick, fitting well all over, without folds or dewlap. His coat is short and close fitting. In winter, he develops undercoat too. His onetime typical color was yellow color of the pea with tabby version. As the times changed, they accepted nearly all dog colors.
Nevertheless, exceptions are here, like the blue and the orda, brown and black and tan. For your information, the orda is a cheese made from whey with a secondary procedure. That's excellent to eating it freshly, at least for me.
The Size of the Magyar Agár
His size at the withers is varied between 61 – 70 centimeters (24.5 – 27.5 inches).
The weigh is from 22 to 31 kilogram (48 – 69 lb).
Side note: the body of this rare dog breed is longer than its withers height.
To be continued here.
When it comes to the water's role in health, we know that no live organism can exist, operate without water. That's how it is, an instance of that is that the water is the main component of the human body. An adult human's body contains around 60-70% water. For example, if one weights 176 pounds, his body contains about 14,3 gal water. Well, you may find similar rates in our dogs, too. So, there is a straight context between dog's health and the water.
Water Needs
As researchers have shown, your family dog's physique comprises around of 70% water. By losing all the fats and 50% of protein of its body has less impact than he cannot get water for two days or more. It can be fatal for him if the water in your canine's body is reduced to one tenth.
With a view to survive, an adult canine requires – at a minimum – two milliliters of water projected to each pound weight daily. That's when considering 1 ounce contains 30 milliliters of water. However, that two milliliters are only enough for your animal to produce urine within his body.
Importance of Water
Without sufficient water vital for urine providing, your family dog or whatever canine won't be able to live. When you are providing an infinite amount of water, your canine will consume a lot more than that two millimeters required. That is particularly true if you always provide fresh water to him.
Handing your doggie merely the smallest amount of water each day could also be sufficient for him to outlive, although not for long. Shortage in water injures the system and terminates its functions progressively. He'll ultimately become weak, come down with a disease, and decease.
Water Utilizing Ways In Dog's Body
The advantage of providing your family dog enough water compared to the smallest amount wanted is that its system can use that multi-mode (just like in humans).
1) The water facilitates the digesting and the process of taking nutrients from the food.
2) Our dog's system is using the water to eliminate fuel, and that is transformed into energy.
3) You can more easily sustain the standard temperature of your dog's physique by ingesting enough water as well.
4) Consuming sufficient water replaces the fluids which might be lost in our dog's body by excretion.
5) The water also requires to mix various kinds of chemical substances within dog's systems. Namely, the distinct chemical reactions ensure the dissolving and remodeling those components.
6) The water also is a transport device at the same time. It takes the nutrients to the cellular structures and in addition carries poisonous waste material from the cells to the organs for correct processing. With the lack of water, these organs won't be able to eliminate toxic things off of the dog's body.
7) In addition, the water is required to control the acid balance within the blood flow.
8) You may know the evergreen saying goes something like "Beauty comes from inside." This applies to our dog's mental health as well. Namely, if he or she is happy, and balanced, the vitality is radiating from every pore. That's can be seen through its eyes, skin, nail, and hair condition too. And the sufficient water consumption has a big role in that as well.
My Take on It
Perhaps you can perceive from the above that the water is nearly always necessary for each function occurs within your favorite's body. And as a result of its versatility plus the degree to which it's utilized, water is regarded to be a crucial nutrient that's needed for all kinds of dogs.
If your animal doesn't get to water s/he can be died within a few days because of its dehydration. However, he can withstand the starvation; he will only be caught up by the fate when he runs out half its original weight. It's obvious, there is a significant difference between the consequences of the lack of the two.
So giving my dog anything to eat; homemade food, meat, dry food or canned meals, I make sure fresh water is in front of her always. Especially in the summer when I'm out for several hours, I put enough fresh water in a couple of shaded places to let her drink. I never let the water bowl being empty, and I recommend you to do so as well.
P.S.: By reading this article, I hope you gained some insight related the role of water in your dog's health. The comment section is open for your remark or question, take advantage of it. Thank You!